Background
Tourism is one of the leading sources of income in Egypt's economy. In 2010, it hit its peak serving 14.7 million visitors and employing about 12% of the population into its workforce. However, following the Arab Spring in 2011, tourism dropped to over 37%. It continued to drop over the following years, impacting a large number of businesses and industries across the country.

We were briefed to create a digital-focused campaign to target tourists to encourage them to visit Egypt.
Role
I worked on the UI for the website campaign according to wireframes designed by the web developers. Designed key design components to help orient visitors and showcase destinations and experiences.
Problem
Egypt's reputation took a big hit between 2011 and 2014 after a period of political unrest following the Arab Spring. This left thousands of tourists with a false understanding that Egypt is unsafe to visit. There was also no official platform for Egypt tourism for visitors to learn more.
Wunderman Thompson Cairo's research determined that this false information was being spread by uninformed media outlets exaggerating false news. Word-of-mouth was also a major source. People were afraid to visit Egypt as it was often associated with the unrest within the Middle East, however with the start of the tourism campaign in 2015, the country was much more stable.
Strategy

Peer-to-peer advocacy was the main strategy for the tourism campaign. I used a social-proof narrative alongside photography as the main driver for the website experience.


The full tourism campaign had started a year before the website was built and was to continue for at least 2-3 years after. One of the main platforms was the #ThisIsEgypt hashtag where locals were sharing their experiences through social media. As a result, the hashtag was a valuable source for when I started working on the website. We had consensually collected a large collection of photographs shot by passionate locals all around Egypt sharing their own adventures that I used throughout the website design.
Social proof
By prioritizing large images of different destinations and activities throughout the interface design, the visitor can feel truly immersed, which would spike their initial interest or awareness of Egypt as a destination.
The entire website interface was designed minimally using components implementing subtle shadows to create light contrast against white backgrounds. This minimal approach was created to push the usage of photography and videography throughout the website to prevent it it being too busy.
Design components
The homepage was designed with a large hero component for photo and video material where it displays the latest campaign creating a fully-immersive experience as soon as the visitor lands.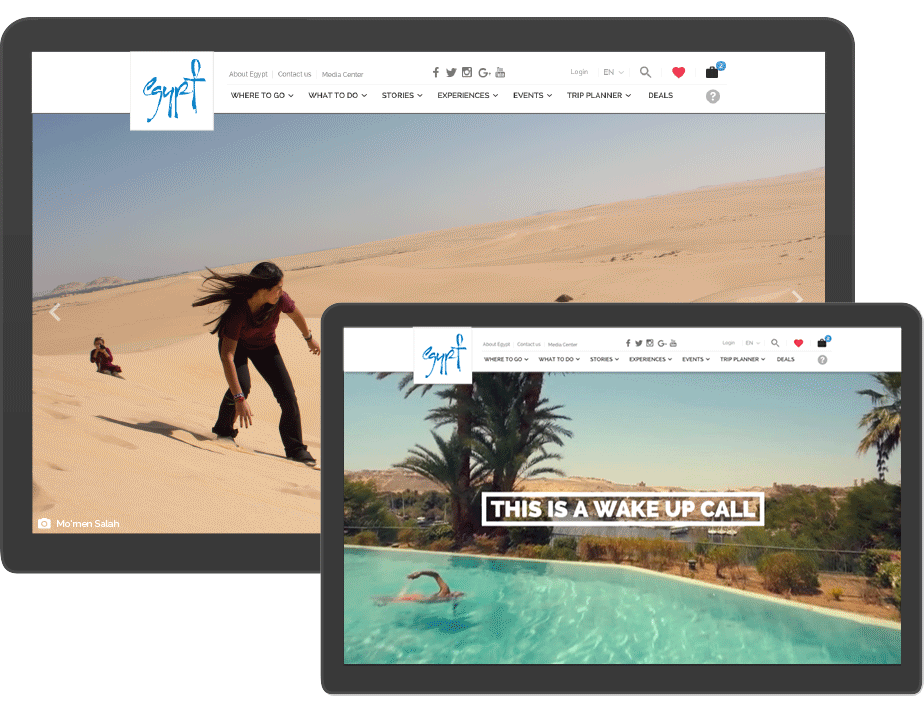 Where-to-go cards
Large photo cards with imagery of destinations showcase popular cities in Egypt showcasing opportunities beyond the stereotypes.
Each "where-to-go" card takes up 3/4th of the width of the website continuing that feeling of immersion. The small sneak-peak of the next card allows the visitor

Experience cards
Micro-interactions such as sliding carousels showing "experience" cards can offer the feeling of choice, similar to how a person can shop in a store or online.
Experience Page
Gallery components within each experience or destination page are designed to show the activity from different visitor perspectives.
The experience page also featured information on ticketing, durations, working hours, and other useful informationt to first-time visitors.
Stories page + components
First-person narrative stories and articles written by locals were published and categorized according to different travel styles.

We acknowledged the different types of tourists visiting Egypt and created an experience tailored to each different of travel style they're interested in such as people who were on honeymoon, family groups, low-budget travellers, or beach-life travellers.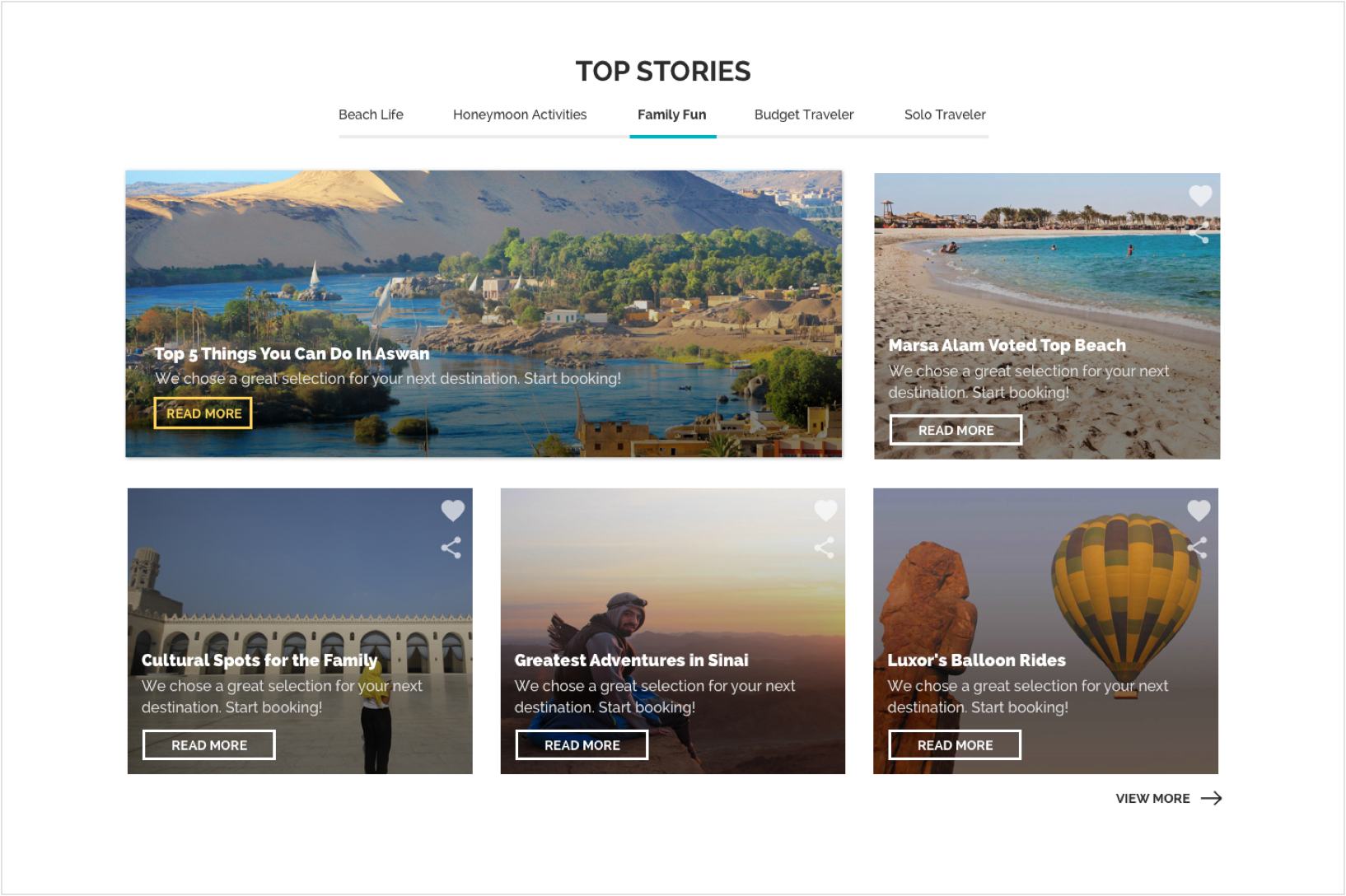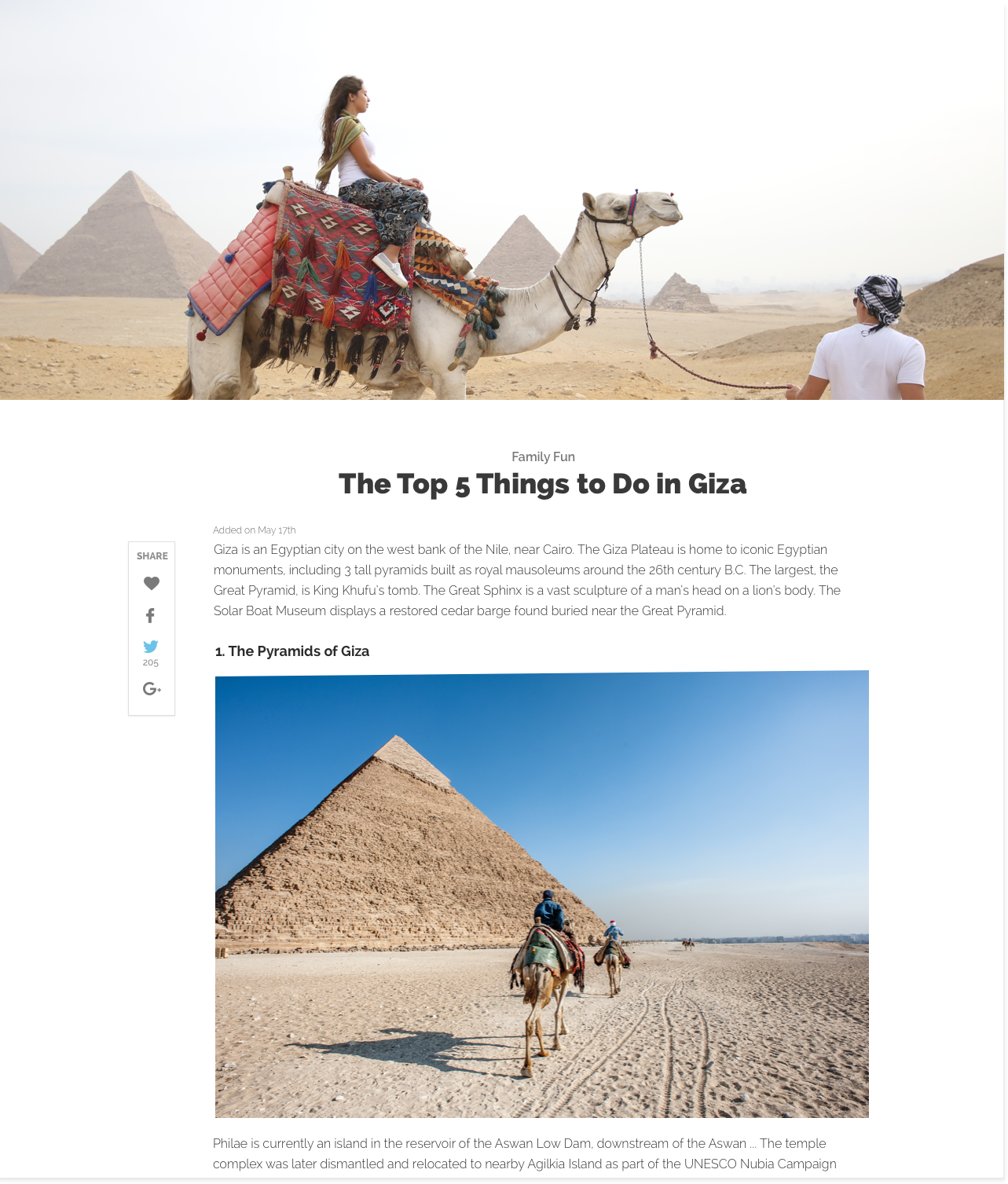 attraction component
The attraction component filters destinations, experiences, and activities by map location for tourists to make the most of their visits.

Activities and destinations are filtered by categories and mapped according to their location on the Egypt map.
Results & awards
The campaign and website were largely successful having boosted tourism by 48% in 2018 in comparison to the year before.

The campaign also won a Gold Effie Award in the Travel, Tourism and Transportation category and Silver Effie Award in the Renaissance category
The website also managed a high organic SEO score being in the top 3 results for over 3 years when searching for "Egypt". The website was live up until August 2023 even though the official campaign only lasted until the end of 2018.
The website was also featured on CrazyEgg in 2018.
20 EXAMPLES TRAVEL WEBSITE THAT WILL GET YOU MOVING →